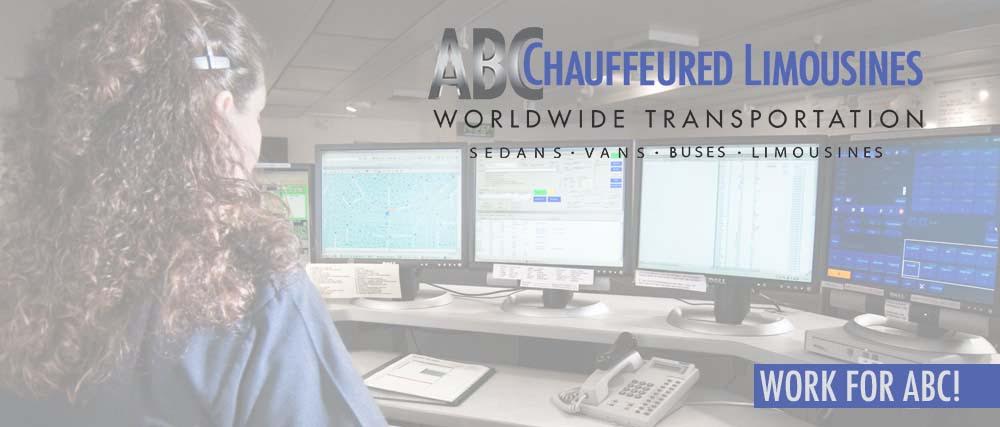 Join OUR team.  Earn MORE money.
ABC Worldwide Transportation is now hiring qualified full-time DISPATCHERS in the SF Bay Area to provide efficient communication and reliable support to our chauffeurs. Must be available to work weekends. Our ideal candidates are hard workers, have excellent customer service skills, are knowledgeable of the SF Bay Area and can handle a fast-paced workload. . We provide the tools, you provide the service!
Why work for ABC?
ABC provides all equipment, workspace and additional training
Compensation is negotiable and based on experience
Flexible hours and work benefits
Plus, extra compensation for additional certifications!
What will you be doing?
Dispatching orders and relaying messages and special instructions.
Assuring scheduled trips are complete and checked for accuracy.
Scheduling and routing vehicles for pickups/drop-offs
Verifying information such as name, address, location and special instructions of the passengers
Providing drivers with directions and anticipating route changes
Answering several phone lines and two-way radio system
Taking live reservations while communicating effectively with customers and drivers
Develop relationships with customers and drivers; utilize relationships to positively influence others
What do you need to get started?
21 years or older
Computer literate/ 55 WPM
Knowledge of Bay Area directions
Upbeat, positive attitude
Prior dispatch experience is a plus!
To Schedule an Interview Contact:
☎ 650.401.6200
✉ abcjob@abctrans.com
Or Apply In Person!
15 S. Bayshore Blvd.
San Mateo, CA 94401
Monday-Friday
9:00 a.m. -5:00 p.m.
Now offering a referral bonus! All new hires are eligible to receive up to $200 in bonuses. Refer another driver and earn $200 after their first 90 days of employment.
Interested in an employment opportunity at ABC Worldwide Transportation? Please fill out the form, attach your resume and submit your application!